Read the full article at the San Francisco Chronicle
Tom Adams and George Chittenden, owners of Adams & Chittenden Scientific Glass, have been coasting toward retirement.
The prospect of retiring was once daunting, Adams told me, because he and Chittenden didn't know what to do with the Berkeley glassblowing company they started together 25 years ago.
Adams & Chittenden is one of the few companies in the country that makes customized scientific glass. They make the stuff their national and international clients dream up — from microbial fuel cells for a university lab in Sweden to fritted tubes for the NASA Jet Propulsion Laboratory to made-to-order distillation glassware for cannabis extraction companies.
"Our thing is really making tools for people," said Adams, 70. "Virtually every branch of science sooner or later needs glass, so we're making tools for them to do their thing."
Because many universities and laboratories in California and other states have shuttered their glass-making shops, Adams & Chittenden, which also repairs glass, has been able to grow its niche business.
"I think this is going to be a good livelihood for awhile," Chittenden, 65, told me during a visit to the company's garage shop on Eighth Street earlier this week. "It's not like car mechanics. There's one on every corner. Glassblowing, not so many people are getting into it."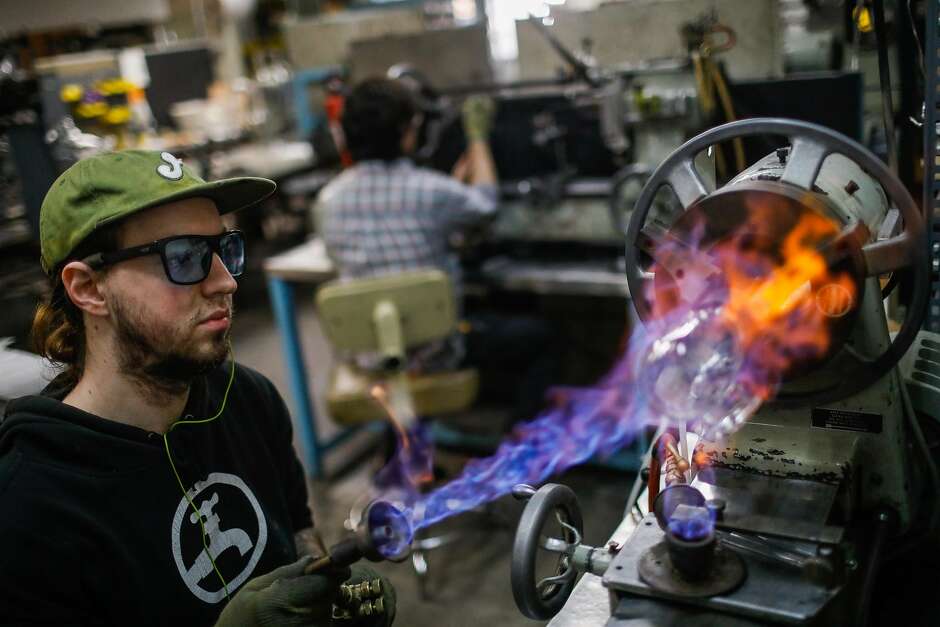 Sam Merkel (left) heats up glass while working at Adams & Chittenden, a 25-year-old scientific glassblowing company in Berkeley.Photo: Gabrielle Lurie / The Chronicle
That's why they've been coasting toward retirement.
"I've been approaching retirement for a long time," Adams said with a chuckle. "I couldn't imagine being 80 and carrying on at the same level, but how else do you do it? Sell it to somebody? Close the doors?"
Sure, they could sell their glassblowing lathes, torches and ovens, but liquidating the business wouldn't bring the value they feel the business is worth, Adams said. And the thought of trying to find a local buyer who could afford the specialized business and also know enough to not run it into the ground was as dispiriting as thinking about retirement. They were concerned about their employees losing their jobs, too.
Then they found a golden solution: They could sell the business to their employees by turning it into a worker cooperative. They're in the process of doing that with the help of Project Equity, an Oakland nonprofit that guides companies in the transition to becoming employee-owned cooperatives.
---
Read the full article at the San Francisco Chronicle