The Inclusive Enterprise: Giving Employees the Keys to the Business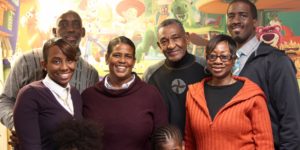 Entrepreneurship can be a powerful force for prosperity. Business ownership gives entrepreneurs the opportunity to earn more money and create jobs. But this pathway to self-made success is mostly an option for the wealthy and for white households with access to capital and connections. Making it easier for all people to become business owners will increase the wealth opportunities in our neighborhoods, cities, and the national economy.
Together with Citi Community Development, Democracy at Work Institute (DAWI) is collaborating with National Urban League and key local leaders to enable more people to share in business assets in their communities– not through creating new businesses, but through leveraging and preserving assets already invested in communities, specifically by promoting shared ownership of existing businesses.
The Case for Conversions
When we focus on retaining existing businesses that are already successful, we can expand the wealth of a business to its employees, so that the assets a business creates can serve more people.
It's called a business conversion and the opportunity is ripe. As the large Baby Boomer generation begins to retire, there is a fleet of businesses at a flash point amounting to 2.34 million private businesses employing 24.7 million workers: Will they be sold off? Will they shutter? Can they continue to thrive under new ownership?
Almost half of all owners of employer firms are now 55 years of age or older and more than 85% of all business owners do not have a succession plan in place. Additionally, DAWI found that an estimated 284,000 business owners of color are nearing retirement nationally, including 40,000 African American business owners. Will all the people these businesses employ and the skill sets developed be lost, or can we find new ways to retain that talent and income? We think we can.
About the Legacy Business Initiative
In 2016 the Democracy at Work Institute convened a collaborative to accomplish together what no single organization can do alone: catalyze business conversions to employee ownership. We focused on minority-owned or operated businesses, with particular interest in African American-owned and operated firms. Together, we sought to understand the common challenges that minority businesses face, like lack of capital access and trepidation about approaching lenders to help address their financial needs.
Collaborative members are part of a wave of organizations approaching employee ownership explicitly as a strategy for equitable economic development. Together we are engaged in coordinated efforts to increase equity in communities across the United States, particularly communities of color
We all have a stake in cultivating and preserving a vibrant small business community. Thriving small businesses promote job stability for local residents and anchor neighborhoods that help driving local economies. Broadening ownership can prevent one of the greatest wealth transfers in history from resulting in a loss of jobs, goods and services in all communities, especially those that have historically lacked access to business assets, such as low-and-moderate income communities and communities of color. Employee ownership can be a critical solution to avoid this outcome.